Whether it's a small gathering or a blow-out party, you'll want to make the event a memorable one. Instead of opting for disposable decorations, make your party a sustainable one with these eight ideas for eco-friendly party decorations.
General Tips for Eco-Friendly Party Decorations
Whatever the size of your party or event, these tips for eco-friendly party decorations will also make it planet-friendly.
Reuse. Instead of disposable decorations, buy or make reusable alternatives.
DIY. If you have time, try your hand at making some of your decorations. I offer DIY options below.
Keep waste to a minimum, by reusing decorations, making your own, or buying products with minimal packaging.
Go natural, using organic and natural elements, such as pinecones, pebbles, seashells. and potted plants and flowers.
Shop local to reduce the carbon footprint of your purchases, and from eco-friendly sources.
Rent it. Instead of buying new linens and decorations, consider renting from a party rental store. For large events, it can be more economical than purchasing everything new.
Avoid using balloons, which pose a serious threat to the environment and wildlife.
Avoid using materials that can't biodegrade, such as plastic and glitter.
Potted Flowers or Plants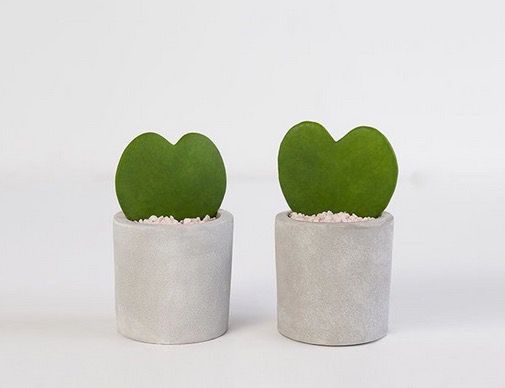 Potted, live plants (instead of cut flowers) are a beautiful and natural way to decorate your event. Depending on the size and shape of your table(s), place one or more as centerpieces, mixing different heights and shapes.
Add a fragrant touch using plants and herbs with a mild scent, such as lavender or rosemary. For an added enhancement, hang decorative objects, tie garlands, or wrap arrangments with mini string lights.
Reuse plants for future gatherings or even given them away at the end of the event as natural party favors.
Purchased. If you're not making your own pots, support your community's businesses by shopping locally. The Slow Flowers directory will help locate businesses that are committed to using American-grown flowers.
To be frank, finding eco-friendly e-florists is difficult since the carbon footprint of growing and delivering floral and plant products is high. To help guide you, look for accredited certification seals, such as Fair Trade or Rainforest Alliance, and these online sites offer beautiful products that are sustainably sourced:
Bouqs partners with eco-friendly farms that minimize waste, recycle water, and use sustainable growing practices. Their wide selection of potted plants and flowers is available for nationwide delivery.
Urbanstems works directly with Rainforest Alliance Certified farms and invests in the people who work there. They offer a variety of beautiful potted plants, some in whimsical, reusable containers.
Vintage and Second-Hand Linens
Instead of buying new linens to decorate your table and party space, visit your local thrift shop or second-hand store to see whether they have pretty vintage linens. Estate sales, online or local, are also a terrific place to browse for unique linens.
Online sources for vintage or secondhand linens include Facebook "buy-nothing" groups, Etsy, Ebay, and second-hand home furnishing sites, such as Chairish.
Eco-Friendly Candles, Lanterns, and Holders
Nothing sets the mood better — inside or out — than candles. They're also a relatively inexpensive way to decorate your party. Avoid paraffin-based wax candles in favor of natural ingredients, such as soy, beeswax, or coconut wax. Even better, try your hand at making your own candles!
For candleholders, pretty drinking glasses, mason jars, plates, or trays will work. If you're crafty, make your own.
Candles
Lanterns and Candle Holders
Hanging Tea Light Holders. I love these glass teardrop holders that can be used for tealights or greenery.
Bulk Glass Tealight Holders. If you have space, buy bulk and reuse your holders for all occasions. These simple glass round ones are timeless or try square holders for a more contemporary feel.
Paper Sky Lanterns. Try these 100% biodegradable handmade sky lanterns made from rice paper and bamboo. They come in an assortment of different colors.
Solar LED Lighting
For outdoor entertaining, solar lighting is a sustainable way to set the mood.
Glass Lanterns. Allsop brand handblown glass lanterns come in a variety of shapes and sizes.
Decorative Metal Hanging Lanterns. To set the mood, try this lantern from OxyLED, which casts a beautiful woodland shadow, or Moroccan-themed globe lanterns from TAKE ME.
Teak LED Solar Lantern. These teak solar lanterns from Les Jardins feature rechargeable solar LED panels to light the fixture and two different lighting options that can either be used all day or only when the sun sets.
Solar Paper Lanterns. These pretty blue and white hanging solar lanterns are suitable for year-round outdoor use and these lace-patterned hanging lanterns can be used in all weather conditions.
String Lights. These pretty solar string lights are an eco-friendly alternative to the plug-in variety.
Pinwheels, Pinatas, and Pom Poms!
DIY. It's easy to make your own pinwheel, but you can make it even more environmentally friendly by using plantable seed paper and biodegradable paper straws.
Now that you've mastered pinwheels, try your hand at making a pinata!
Purchased.
Pom Poms. Green Party Goods stocks a wide variety of pom-poms made from biodegradable rice paper and tissue. Choose from simple colored options to vibrant rainbow poms.
Solar Metal Pinwheels. These colorful metal pinwheels are a festive decorative touch for any occasion and can be reused indefinitely.
Bunting and Banners
DIY. Make your own banner or bunting using fabric scraps or colorful paper. This site, Wonderfuldiy, even shows you how to make no-sew and mini bunting cake toppers.
Purchased.
Garlands
DIY. As a child, I remember making garlands out of paper remnants, but there are other items you can use — just try to use items that are biodegradable, reusable, or even edible. Some ideas include cloth or paper remnants, seashells, pinecones, greenery, berries, popcorn (or both), dried fruit, nuts, small cookies. (Don't forget to pierce a hole in the top of the dough before baking.)
Purchased. Look for garlands that you can reuse or ones that are made using natural, biodegradable, or recycled materials.
"Green" Confetti (Comes in Other Colors, Too)
DIY. Make confetti using old tissue or unlaminated colored paper with different-shaped hole punches. To ensure that your confetti is completely biodegradable, try making it from leaves or other organic matter, such as coconut flakes, fragrant herbs, or floral petals. Avoid rice kernels that can be harmful to wildlife.
Purchased. If the idea of making your own confetti seems too overwhelming (it does for me), try these eco-friendly options: