Balloon pollution is ballooning. (Couldn't help myself.) Kidding aside, balloons have become an ever-increasing part of beach and ocean litter. All too often, these colorful symbols of happy occasions end up injuring wildlife and causing environmental harm.
Why is Balloon Pollution a Problem?
Balloons are single-use disposables. They're used for a brief period of time before being discarded. Even worse, they're cast into the air where they can travel for thousands of miles before descending as litter.
A Growing Problem
With an increase in the popularity of balloon releases that find hundreds or even thousands of balloons set loose at weddings, graduations and sporting events, balloon pollution is a real and growing problem.
In my home state of New York, field staff for the Department of Environmental Conservation encounter balloon pollution on a daily basis on the ground, stuck in trees, and in water bodies including trout streams, lakes, coastal areas, and other sensitive ecosystems.
On a larger scale, The Ocean Conservancy's 2019 International Coastal Cleanup recovered over 100,000 balloons around the world, with more than half found in the United States alone.
Even the pristine shores of Lake Erie are not free from balloon pollution. In just one small 4 mile stretch along the north shore of Lake Erie, two citizen scientists collected 380 Mylar balloons in a brief 2-week period. By their calculations, this translates into a potential 960,000 balloons washed up on the Lake Erie shoreline each year!
Balloons Don't Biodegrade (Quickly)
Everything biodegrades eventually, but most balloons contain some plastic, impeding their ability to degrade in a natural environment. Mylar (or foil) balloons are made from aluminized plastic film. Latex balloons contain a more biodegradable liquid rubber, but they're typically mixed with plasticizers and other chemical additives.
All of these plastic substances take years to degrade in the environment, breaking down into ever smaller pieces until they remain, indefinitely, as microplastic pollution. While there are some "biodegradable" balloons on the market, most still take months to degrade, making them an enduring source of litter and a hazard to wildlife.
A Deadly Form of Litter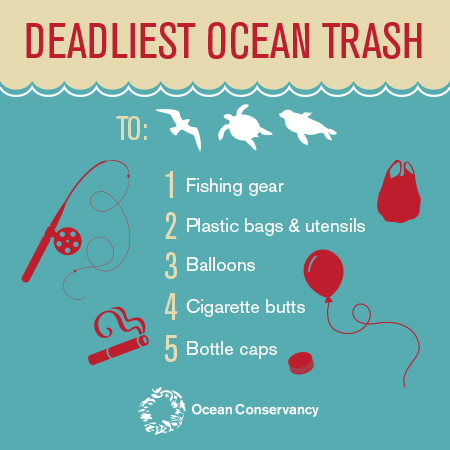 Balloon litter is confused by both marine and land animals as food. Attracted by shiny balloon debris, sea turtles, birds, jellyfish, and other wildlife ingest deflated balloons, causing internal injury or death. Then there are the strings and streamers that can entangle, choke, or suffocate animals.
Sadly, balloons have been shown to be a top cause of mortality for wildlife — seabirds, in particular. The Ocean Conservancy now ranks balloon litter at an even higher risk to animals than bottle caps.
Wasting a Nonrenewable Resource
Balloons are made using plastic — a substance that is made using chemicals derived from fossil fuel production. If you think about it, that means that balloons — designed to be used for just a brief period of time — are made using non-renewable resources. What a waste!
In addition, the increasing use of helium for balloons has put a dent in the availability of helium for more essential uses, such as MRI scans and deep-sea diving for scientific research, as well as for the production of computer chips and liquid crystal displays.
Power Outages
Balloons can stay aloft for weeks, drifting for many miles before settling down as litter. Invariably, they become snarled in power lines, causing thousands of power outages each year, or even worse, fires.
Mylar balloons are particularly dangerous as their metallic coating conducts electricity. According to New Jersey's largest utility, PSE&G, it experienced a 26% increase in outages caused by Mylar balloons over the five-year period from 2016 through 2020.
Aesthetic Issues
Even if balloons are a festive way to celebrate, no one wants to see the effects of balloon pollution on beaches, stuck in trees or hanging, bedraggled, from utility wires. All this litter is unsightly and has a negative impact on enjoying the beauty of our natural world.
I've put this point last, but don't underestimate the importance of aesthetics in influencing environmental action. The unsightliness of plastic bag litter in my hometown was one of the most influential factors for both conservative and progressive lawmakers in making the decision to pass Rye's plastic bag ban.
Balloon Alternatives That Are Fun and Environmentally Friendly
At this point, you may be throwing up your hands in exasperation: first plastic straws, now balloons?! Before you decide that all this dire balloon pollution talk is taking the damper out of fun ways to celebrate, remember that for millennia humans have had a whole lot of fun without using plastic. It's entirely possible to whoop it up using alternatives to balloons that are fun for you and safe for the environment.
Here are some ideas to get you started. For a full list of suggestions and ideas, including DIY decorations, see Green That Life's 8 Eco-Friendly Party Decorations for a Green Celebration.
If you must use balloons, use them inside. If outside, ensure that they're securely anchored. When disposing of balloons, put them in the garbage. Balloons are not recyclable.
Taking Action Against Balloon Pollution
The good news is that public awareness is growing about balloon pollution and lawmakers are taking action to minimize the environmental impact of balloon use. Dozens of balloon release laws have been passed in cities and states across the nation, with Maine passing their statewide ban on balloon releases just this year. Even sporting events are discontinuing the use of balloon releases. The most notable is Clemson's decision to end its 30-year tradition of releasing 10,000 balloons before football games.
Volunteer to Record or Reduce Balloon Pollution
You too can do your part in helping reduce balloon pollution. Every action you take helps, whether it's picking up plastic litter when you see it, taking part in a beach cleanup, or just discussing plastic waste with others.
Additional ways to get involved could be to volunteer as a citizen scientist and record balloon pollution data. Many local environmental organizations would welcome volunteers and in New York, you can email the NY Department of Environmental Conservation your pictures and stories about where you've found littered balloons: [email protected].
Become a Balloon Pollution Activist!
If you want to take your involvement one step further, become a balloon pollution activist by joining a local environmental organization and contacting your local representatives to express your opposition to balloon releases. You can even start a local initiative to reduce balloon pollution in your community.