You've heard about the climate crisis and the bleak view for the future of our planet. If you really dive in to learn more, it's terrifying… It's tempting to shut it all out because it all seems so beyond your control. I know how you feel, but the good news is we really do have the power to make a difference.
Start here with some simple changes at home to reduce your carbon footprint. I offer several ideas below and a few more involved ways to reduce your carbon footprint. Take a look at all of them and pick a few – or more – to get you on your way to a green life!
How Do I Calculate My Carbon Footprint?
The first step to reducing your carbon footprint is to calculate your current footprint. This can be tricky because each stage of an activity has a carbon footprint associated with it. Fortunately, there are online calculators to help give you a rough estimate of your and your family's footprint.
Reduce Your Carbon Footprint at Home
Make Your Home More Energy-Efficient
Do Some Energy-Efficient DIY Projects
According to the Department of Energy, the typical American family spends nearly $2,000 per year on their home energy bills. Much of the money is wasted through leaky windows or ducts, old appliances, or inefficient heating and cooling systems.
The DOE's Energy Saver DIY Project Guide provides easy, step-by-step instructions on several home energy-efficiency improvements that will save you energy and money.
Appliances
Buy energy-efficient appliances. They'll reduce your carbon footprint and you'll save  money on your energy bills.
ENERGY STAR. The ENERGY STAR label on an appliance is a good indicator that the product is energy efficient. These products have been independently certified to save energy "without sacrificing features or functionality." Try out the ENERGY STAR Savings Calculator to help you look beyond the sticker price for energy savings.
Refrigerators and freezers. Set these at energy-efficient temperatures. Fridge: between 38-42º F. Freezer: between 0-5º F.
Lighting
If you haven't started already, swap out incandescent bulbs for energy-efficient alternatives. You'll also save some money.
According to the Department of Energy, replacing your home's five most frequently used light fixtures or bulbs with ENERGY STAR rated alternatives will save you $75 each year.
Insulation
Insulate your home. Install weather stripping or caulking around doors and windows. It's estimated you'll reduce heating costs by more than 25%.
Insulate yourself! In the winter, we set our thermostat at 68º and bundle up with socks, sweaters and a cozy blanket when lounging on the couch.
Turn it Off to Reduce Your Carbon Footprint
These small, simple actions can yield big results over time for the environment and your wallet.
Lights
Turn off lights when you leave a room, even those LED lights!
Water Usage
WaterSense Label. Look for water efficient products with the EPA's WaterSense label. WaterSense has a product search tool to search a wide variety of styles and price points.
Turn off the water when brushing teeth or washing dishes.
Leaks. Fix those leaky faucets, toilets, shower heads and more to reduce water usage and save money. Check out the Fix a Leak page on WaterSense for more information and tips.
Clothes washing. Wash full loads of clothes in cold water. According to a recent study, washing clothes on the cold setting reduces CO2 emissions by 1.2-14.9 pounds per laundry load  (depending on washing machine type, temperature, and electricity source).

Avoid the double-rinse cycle on your washing machine.
For your next purchase, consider a front-loading washing machine that uses one-third to one-quarter the water compared to top loading models.

Bathing. Take a quick shower and use a low-flow shower head.
Toilets. Make your next toilet purchase of a dual-flush one. The dual feature allows you to select how much water per flush is needed!
Pull the Plug
Chargers. Put all your chargers on one extension. Turn it off when not in use.
Appliances. Pull out the plugs on appliances and devices when not in use. "Vampire electronics" continue to use energy even when they're turned off or in sleep mode.
Temperature Control
Air conditioning. Set air conditioning thermostats to 75-78° F.

Instead of air con, open the windows and turn on the fans to save money and keep cool.

Heating. Set heating thermostats to 67-68° F degrees during the day and less at night. By turning your thermostat back 10-15º for eight hours a day, you can save 5-15% per year on your heating bill.
Water heater. Reduce the temperature setting on your water heater. 120º is adequate for most homes.

Flush the tank every year to eliminate mineral sediment that can reduce the tank's capacity.
Insulate an older tank to prevent heat from escaping.

Vacation mode. Turn your air conditioning, heat and even your water heater down when you're out of town.
Check Your Diet
Food Choices
Eat less red meat. A study by researchers at the University of Chicago finds that the greenhouse gas emissions of animal vs plant protein diets vary by as much "as the difference between owning an average sedan versus a sport-utility vehicle."
Eat more plants. It's not only healthy, but the carbon footprint is less.
Eat less processed, packaged foods. Again, a healthier option, but you'll also reduce your carbon footprint as these types of foods are major contributors to GHG emissions.
Compost/Food Scrap Recycling
This fact always amazes me: If food waste were a country, it would be the third largest emitter of greenhouse gases. Food waste really is a huge waste and if you do nothing else to reduce your carbon footprint, take some steps to reduce your food waste.
Compost. It's so gratifying to compost and divert food from the landfill or incinerator. For resources and ways to compost, read more in Section 5 of my food waste post.
Eat your leftovers. Take a careful look at your food purchases to determine whether you're buying too much and then throwing it all away. Use up those leftovers! I offer tips here.
Lifestyle Changes to Reduce Your Carbon Footprint
Ditch the Single-Use Disposables
Which ones? Any and all! The key is to work towards changing your daily habits and reducing your dependence on single-use disposables. And not just plastic single-use items (for example, resist reaching for single-use paper towels in favor of reusable cloth rags)!
The point is that any time we use a disposable item (a plastic straw, bag, cup, bottle) instead of reusing a durable alternative, we add to ever-increasing buildup of waste and pollution.
So consider swapping out any convenience item that can easily be replaced with durable, reusable alternatives. Need ideas for how to switch from using single-use to reusable items? I've got a lot of them! Check out my post on 4 Simple Steps to Dispose of Disposables.
Recycle, But Recycle Responsibly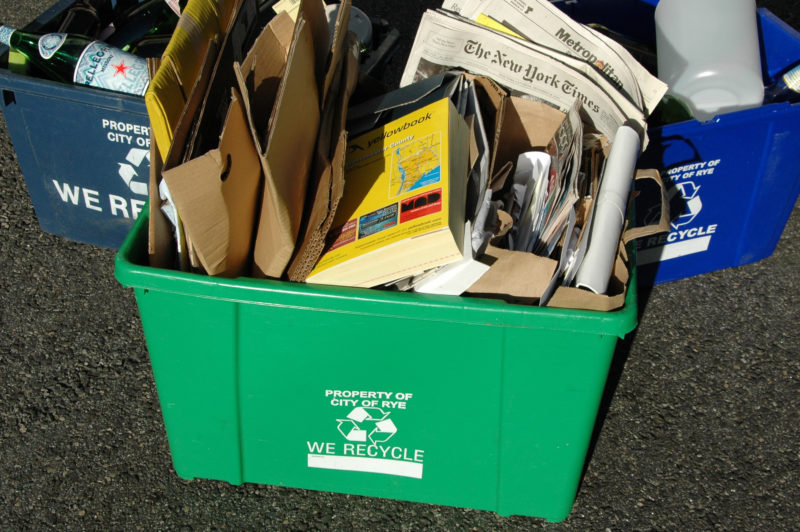 Recycling is really tricky. It's designed to make us feel good … that we're disposing of waste that'll be transformed somehow into something useful. Right? Well, it's just not that simple and unfortunately recent policy changes by China have put enormous pressure on the recycling industry.
That's not to say you shouldn't recycle! First and foremost, work to try to reduce the waste you generate. Then educate yourself (and others) about how to recycle properly and responsibly. A few ways to do this:
Your town or city's website should have a section on recycling with guidelines.
Additional resources can be in Section 3 of my spring (green) clean post.
Get Involved
I've given you some ideas and tips to reduce your carbon footprint and you're now committed (hopefully) to change. Great! What about expanding beyond your individual actions and enlisting others to make a lifestyle change? I've written about how to inspire people to take action, but I list here a few ways you can organize and advocate for causes that combat climate change.
Start a Climate Action or Sustainability Group
I started a sustainability group in my town and you can too. It involves some organization and preparation, but it's possible to start one with just a few energetic and committed friends and residents.
Advocate for a GHG Emissions Reducing Cause
There are so many issues that you can advocate for. A few ideas:
Plastic straw reduction campaign to cut down on plastic straws pollution
Plastic bag law. I spearheaded one in my town. Follow these steps to do one in yours.
Community composting. I helped start one in my town and we followed in the footsteps of a neighboring community and our local schools!
Join a Group
Don't have enough time to lead a group or spearhead an initiative? Just joining with others – either remotely or in a local group – will make an impact. Your participation in a climate action organization will encourage others to join in and you'll learn even more about how to reduce your carbon footprint. It's also a lot of fun to step outside the daily grind and be part of a group that's committed to making a difference.